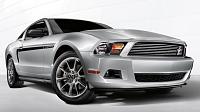 Thanks for taking the time to visit the Mustang Club of America website.
We've come a long way from that handful of committed Mustang and Shelby enthusiasts that got together at Stone Mountain, GA in 1976, forming the Mustang Club of America. The basic premise was to preserve and promote classic Mustangs and provide a forum for fellow enthusiasts to share information, help one another, and make friends. Today there is so much more to do and enjoy with your Mustang and the MCA has grown as well. Thousands of aficionados throughout the world recognize the Mustang Club of America as "The Mustang Place To Be". There are over 180 Regional Groups and International Affiliates recognizing every Ford Mustang from 1964-1/2 to the latest off the assembly line. There is even a Mustang Club of America Edition 2011 Ford Mustang available!
Whether you have restored your Mustang to showroom standards or have a modified/resto-mod performance Pony, whether your favorite drives are down the quarter mile, around a road course, or to the neighborhood cruise night, MCA offers many benefits for you to enjoy.
The Mustang Club of America…
Develops judging standards for all years of Mustangs.
Supports and ensures the value of all Mustangs.
Develops standards for reproduction parts to help your restorations come as close to original as possible.
Formed and maintains the Mustang Hall of Fame to honor those who have been instrumental in the development and the promotion of the Mustang and the hobby.
Hosts four National and a Grand National Show each year, working through regional clubs all over America.
Supports Driving Events to develop fun driving activities of all kinds for MCA members.
Hosted the 30th, 35th, 40th, 45th, and 50th Anniversary of the Mustang in cooperation with Ford Motor Company and other sponsors.
Organized the Mustang Club of America's Anniversary Celebrations to "keep the party going".
Works with Ford Motor Company to ensure that future Mustangs live up to the rich heritage and spirit of Mustang's past.
Encourages Regional Groups to provide educational and fun activities for their members.
has contributed thousands of dollars and labor to charities to help local communities through Regional Groups and members.
Publishes the monthly magazine Mustang Times for its members. Included free for members are non-business classified ads in the magazine as well as on the website. The publication lists National and Regional Club shows and activities, keeps members informed of club happenings, and features articles on Mustangs of all vintages.
Because of the above efforts, The Mustang Club of America has provided the forum for camaraderie for Mustang zealots and has helped Mustang remain one of the world's most loved automobiles. Through the efforts of Mustang Club of America, the Mustang value has held its own and in many instances is continuing to increase. The Mustang was first presented to the world as a fun, sporty car for everyone. The Mustang Club of America is committed to continue that heritage. Our events are centered around FUN, friendship and family-oriented activities.
Please join the world's largest Mustang enthusiast organization to continue to honor and promote the Mustang and its fans.
Sincerely,
Steve Prewitt
MCA President 2019-2020